Editor's note:
Written by Thaddeus Pawlowski and Michelle Mueller
August 05, 2018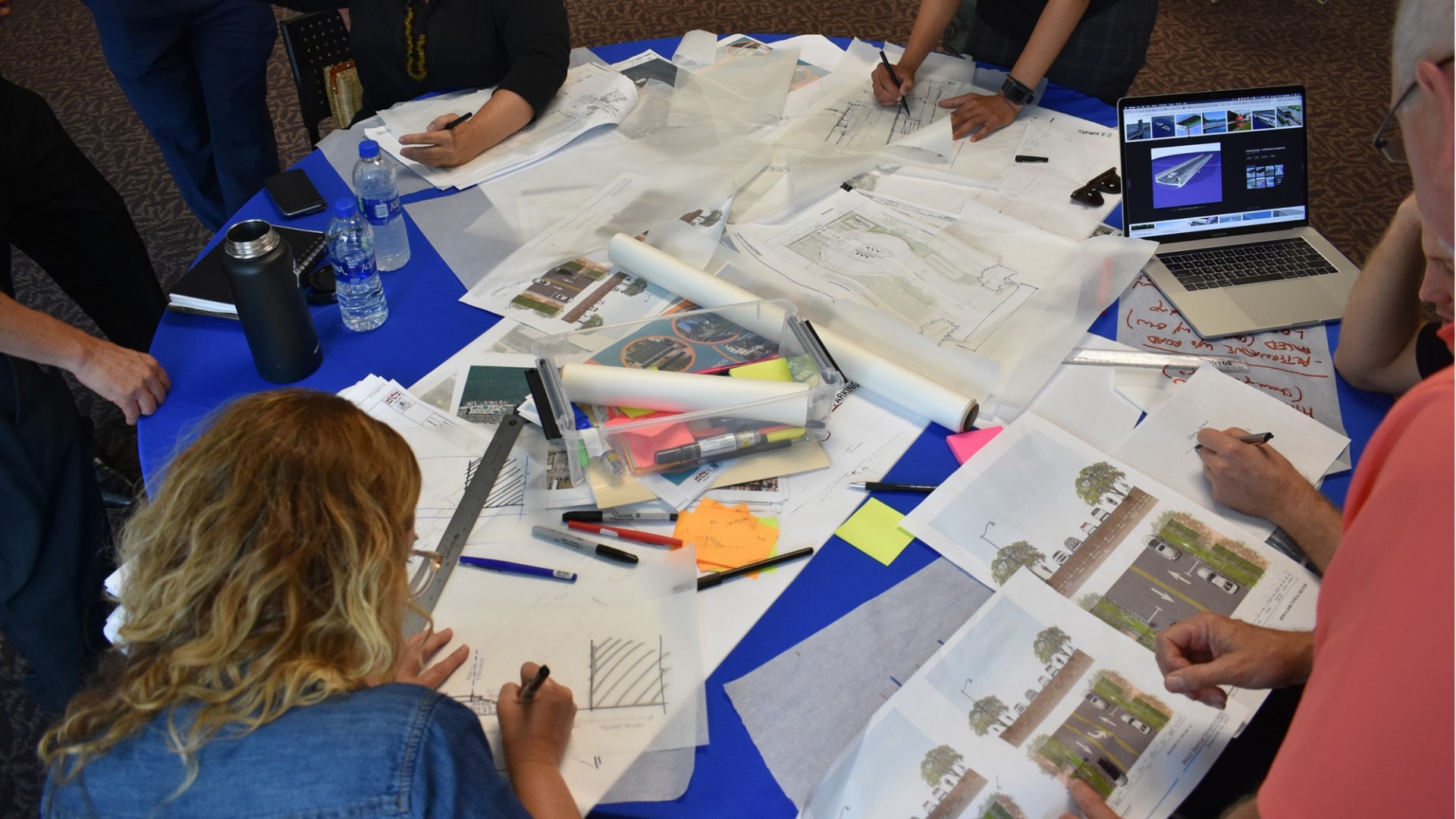 Widely recognized as ground zero for climate change adaptation in the U.S., Southeast Florida is one of the nation's fastest growing regions and one of the most exposed to ever more threatening coastal storms and regular tidal flooding from sea level rise. Miami Beach is at the frontlines; City Manager Jimmy Morales likens the city's situation to one of a canary in a coal mine. He and other local leaders are clear about the need to be innovative and proactive in their approach to these issues.
"But please don't kill the canary," Morales told the more than 60 participants in the first Resilience Accelerator hosted by 100 Resilient Cities and Columbia University in August 2018 in Miami.
The Resilience Accelerator is a partnership between 100 Resilient Cities and the Center for Resilient Cities and Landscapes (CRCL) at Columbia University, which brings together design and research expertise with resilience practitioners. In an intense design and implementation workshop, the Accelerator builds a resilience lens into projects, and at the same time challenges the people and institutions that deliver these projects to be more anticipatory, reflective, and radically action-oriented in their daily work.
The Southeast Florida Resilience Accelerator focused on five distinct projects from across Southeast Florida.Over a three-day intensive working session, participants hailing from municipal staff, wielding local or outside expertise, or otherwise involved as project stakeholders, worked to frame the projects, refine their design, and define an implementation plan. To further elevate the regional resilience agenda, 100 Resilient Cities partnered with the Southeast Florida Climate Compact and invited two projects from Palm Beach County to participate in the workshop. Bookended with public sessions—including a call to action from Miami Beach Mayor Dan Gelber and a rap video about climate change by Miami-Dade Clerk of Courts Harvey Ruvin—the workshop also held itself accountable to constituents and stakeholders in the region.
The five projects speak to the diverse, pressing challenges facing the region, from the beaches to the bay, and from the urban core to the sprawling inland areas.
Monceaux Park, a small pocket park in the City of West Palm Beach, is a project which addresses aging infrastructure and presents an opportunity to build nature-based approaches for flood protection and storm-water management.
Military Trail, a project to build small "cottage" homes for communities in Palm Beach County struggling with addiction or homelessness, speaks to economic stratification and asks how the region is planning to support these communities.
The West Avenue street elevation project in Miami Beach is an example of how municipalities will have to work hand-in-hand with residents on climate adaptation policies and projects.
Miami's Brickell Bay Drive presents an opportunity for the city to reimagine public access to the waterfront and use design principles to protect from sea level rise.
Miami-Dade County's focus on its South Corridor is a project to protect renters, encourage homeownership, and increase ridership along the SMART corridor as Floridians move to higher ground.
More detailed project information available here. 
Divided into teams, a mix of facilitators, municipal project owners, subject matter experts, and designers iterated on the design and objectives of each of the five projects. Subject matter experts included Andy Hayes, Architecture Professor at Florida Atlantic University; Jason Hellendrung, community engagement expert at Tetra Tech; Kate Orff, urban designer at SCAPE Studio; Shekeria Brown, a housing expert at the South Florida Development Corporation; and Leah Cohen, a climate risk modeling expert  at Jupiter Intelligence. Together they encouraged project owners to think outside of their specific project sites and more toward how their projects connect to the larger neighborhood, city, and region. At the end of the three days, project owners shared their designs and implementation pathways to the public.
The access to dedicated technical expertise during the Resilience Accelerator workshop provided a critical boost to the project plans brought forth by each municipality. For example, the City of Miami Beach worked to develop a framework for communicating its climate adaptation strategies as well as a tool to make decisions on interventions; these can be shared with other cities globally who are similarly struggling in articulating the cost, benefits, and risk associated with the implementation of policies and projects focused on adaptation. The Palm Beach County Military Trail project will incorporate objectives and design recommendations from the workshop into an RFP released in November 2018. Both West Palm Beach and Miami-Dade County identified long-term implementation pathways for the Monceaux Park and South Corridor projects respectively, that include a process of building support, iterating on designs, and identifying sources of funding.
The challenges of Southeast Florida require a coordinated effort and an agglomeration of projects to create a set of cities and region which are more adaptable, flexible, and prepared for future change. Pivoting between goals at the site and the regional scale, the Accelerator workshop equipped city leaders to consider how each project can be designed to meet wider resilience objectives. Outcomes from the workshop will be integral to the Resilience Strategy under development by the Greater Miami and the Beaches resilience teams, to be released by the end of 2018.